June 8, 2015
Unveiling Student Debt Relief, Duncan Hits For-Profit College Industry and Its Friends in Congress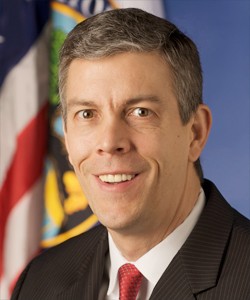 U.S. Secretary of Education Arne Duncan just announced a debt relief package for students who attended schools run by now-bankrupt Corinthian Colleges. In doing so, Duncan sharply attacked for-profit colleges that have engaged in fraudulent acts, and he criticized members of Congress who have blocked reforms to hold the industry accountable.
Duncan said on a 2 pm ET Monday conference call, "You'd have to be made of stone not to feel for these students."  He said that many of the students "ended up with huge debt, worthless degrees … if they got a degree at all."
Using some of his toughest language to date regarding predatory for-profit colleges and their defenders on Capitol Hill, Duncan offered a sharp critique of "a for-profit industry that uses its financial support to try and block change in Congress." He promised to "beef up efforts to protect students and taxpayers from waste and fraud," to "hold colleges, not taxpayers, accountable for fraudulent acts," and to "work across the administration to make sure the full weight of the law is brought to bear" against abuses.
Duncan added, "This has to be a wake up call to Congress…. Congress has to be part of the solution, not part of the problem, and, candidly, members on both sides of the aisle have been part of the problem." He added, "This is the time for Congress to act, and act in a bipartisan way."  In particular, he raised the possibility that Congress could move to hold for-profit college companies accountable for paying back some of the student debt.
The new debt relief package directly targets some 15,000 student borrowers at closed Corinthian campuses, with collective debt of about $208 million, and an overlapping group of some 40,000 students at Corinthian's Heald College schools, where the Department already had identified specific abuses, and student debt is about $650 million. But in fact, Department officials said, the new debt relief approach, including the appointment of a special master, to be named "in the coming weeks" according to the Department, to address student claims, extends to the universe of students at Corinthian and, indeed, at other for-profit colleges that have engaged in fraudulent practices.
Department officials said that relief for defrauded students was potentially available to students who had attended Corinthian schools going back well before the school's 2014-15 collapse, and included students whose campuses were acquired this year by debt-collection company ECMC. Duncan said the plans would apply beyond Corinthian.  He foresaw the collapse of other companies in the for-profit college industry: "Sadly this will likely not be the last domino to fall."
 The Department pinned its authority to offer debt relief on a provision in law allowing students to make fraud by the school a "defense to repayment" of outstanding debt.  Students at any college already have the right to mount such a defense, but they have rarely done so successfully.  The importance of today's announcement is that the Department now plans to take these claims seriously in the cases of fraudulent schools, rather than fight them tooth and nail in court.
Advocates for students, concerned about students having an individual burden of proof in cases where a school has engaged in systematic fraud, have urged the Department to also use its "compromise and settlement" authority to forgive debts on a broader basis.  A Department official just told me that the Department is concerned about the open-ended nature of this approach but has not completely rejected it, pending more legal review.
On today's call, Under Secretary of Education Ted Mitchell announced the details of the plan, which include these elements:
Expanding eligibility for Corinthian students to apply for a closed school loan discharge, extending the window of time back to June 20, 2014, to capture students who attended the now-closed campuses after Corinthian entered into an agreement with the Department to terminate Corinthian's ownership of its schools.
Relying on evidence established by "appropriate authorities in considering whether whole groups of students (for example, an entire academic program at a specific campus during a certain time frame) are eligible for borrower defense relief. This will simplify and expedite the relief process, reducing the burden on borrowers."  The Department also announced that students who attended many Heald programs from 2010 to 2015 already qualify on this basis.
Allowing all former Corinthian students who apply for borrower defense — including those at campuses acquired by ECMC — to have their federal loans immediately placed into forbearance, which stops their monthly payments, pending resolution of their claims.
"Appointing a Special Master dedicated to borrower defense issues: The Department will appoint a Special Master to oversee borrower defense issues and charge that person with ensuring the process is simple, streamlined, and fair to students and taxpayers. While the specific steps announced today are for former Corinthian students, the Special Master will help develop a broader system that will support students at other institutions who believe they have a defense to repayment."
The Department, in a press release, listed a series of reforms it had undertaken or planned to pursue to protect students and taxpayers from predatory for-profit colleges abuses.
I am still extremely disappointed with the deal that the Department blessed allowing ECMC to acquire some 50 Corinthian campuses, and with all the broken promises by ECMC since then.  I am dismayed that as we speak the Department is allowing predatory companies like EDMC, Kaplan, ITT, and Career Education Corp. to take new taxpayer millions and billions to sign up students for programs that will ruin their lives.  It's crazy to, on the one hand, declare these predatory colleges a disaster area in need of a bailout, and on the other hand keep funneling federal money to them and telling students it's okay to enroll.
I will look carefully at the implementation of the debt relief plan the Department announced today to see if students are truly being offered an opportunity to escape crushing debt, and if law enforcement findings are adequately taken into account.  As Senators Dick Durbin and Richard Blumenthal just said in a statement, "Today's announcement leaves questions about how the Department will address students seeking a discharge of their federal student loans based on Corinthian's fraudulent activities. In determining a process, we encourage the Department to work closely with State Attorneys General and other state and federal agencies as they have already made voluminous findings about Corinthian's misconduct."
But at least in terms of a strong statement of support for students, and condemnation of corrupt colleges and their corrupted companions in Congress, this is a good day. Arne Duncan is standing up, for real, and taking on the robber barons of higher education at last.
This article also appears on Huffington Post.