June 10, 2015
Edison Electric Institute Elects New Leaders But Policymakers Are Unlikely To See Innovative Ideas
Nic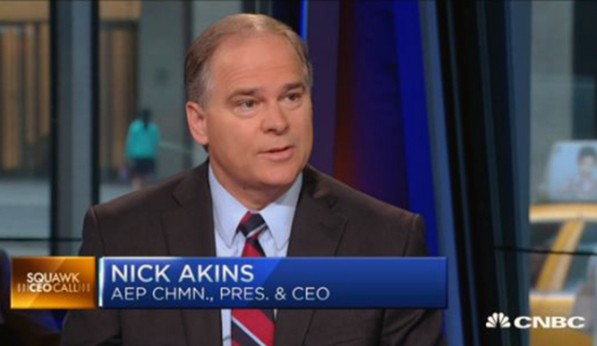 k Akins, president and CEO of American Electric Power, was announced as the elected chairman of the Edison Electric Institute (EEI) yesterday at the association's annual meeting in New Orleans.  EEI is the national trade association representing investor-owned electric utility companies.
Joining Akins on EEI's leadership team as vice chairmen will be these four industry executives: Tom Fanning of Southern Company; Chris Crane of Exelon Corporation; Pat Vincent-Collawn of PNM Resources; Greg Abel of Berkshire Hathaway Energy.
The investor-owned electric utility industry is faced with difficult questions of how to change its outdated business model because of "disruptive challenges" and regulations to limit carbon dioxide emissions. But, instead of electing leaders with visions to increase distributed generation, strengthen (or at least not lobby to repeal) renewable policies, and reduce emissions, EEI's recent election appears to send a message that the industry will continue to drag its feet and let others dictate the path forward.
American Electric Power (AEP) is the private chair of the climate-denying American Legislative Exchange Council's Energy, Environment and Agriculture Task Force. Akins even spoke at ALEC's 2011 annual meeting on "A Smarter Approach to Improving our Environment: Addressing the Costs of Proposed EPA Regulations on Energy Affordability." And, last year during the debate over whether or not to freeze Ohio's renewable energy and energy efficiency standard, AEP made it clear the company was in favor of the legislation to halt the deployment of renewables. Additionally, the utility is urging the Ohio Public Utilities Commission to bailout its coal plants, and has even appealed the Public Utilities Commission decision affirming net metering is fair to ratepayers to the Ohio Supreme Court.
Southern Company was exposed this past February along with Exxon Mobil, and the Charles Koch Foundation for funding Willie Soon, who failed to disclose the fossil fuel money when testifying and publishing papers denying the risks of global warming. Southern Company is also dealing with cost overruns for the heavily subsidized Vogtle and Kemper power plants. The costs for Kemper have grown so much that South Mississippi Electric Power Association pulled out of its commitment to buy the electricity saying the rates "have increased to the point that the rate impacts necessary for ownership would not best serve the needs of SME's 11 member cooperatives or their combined 419,000 members."
Exelon has been threatening regulators and politicians that it will close three of its six nuclear power plants if it doesn't get its legislation passed in Illinois that raises customers' electric bills. The nuclear giant has also routinely worked against renewable energy policies, specifically the Production Tax Credit.
PNM Resources, New Mexico's largest utility, was urging state regulators to pass a proposal to implement a 12% rate increase and monthly charges on rooftop solar customers, but it was rejected in May.
And lastly, as Bloomberg Business reported on Berkshire Hathaway Energy's NV Energy plan to fight rooftop solar in Nevada, "In an April presentation to investors, NV Energy laid out its strategy for addressing the growth of home solar. The utility said it would 'lobby to hold the subsidized net-metering cap at current 3 percent of peak demand.'"
EEI plays a key role in crafting policy for the utility industry, and the future of the electric grid is unfolding as a result of cheap renewables and the Obama administration's Clean Power Plan. However, it's unlikely innovative ideas will be coming from EEI anytime soon with these five leaders in charge.