May 5, 2015
50,000 Owed Money by Corinthian Colleges Include Lobbyists, Scammers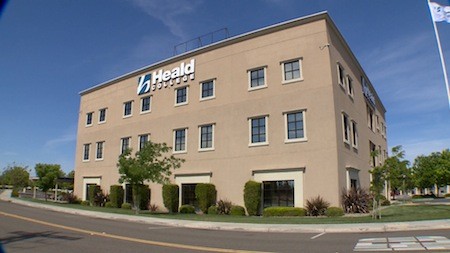 Yesterday, Corinthian Colleges, one of the worst-behaving for-profit college companies, capped its dramatic collapse by filing for bankruptcy. A business that was getting as much as $1.4 billion a year in federal aid now has claimed in court that it has just $19 million in assets, but $143 million in liabilities. So who is owed all this money, and what does that tell us about Corinthian's conduct?
The Intercept's Lee Fang yesterday noted some of the most interesting Corinthian creditors, listed in the company's court filing. Some of those whom Corinthian promised money were public cheerleaders for the school and the controversial for-profit college industry, underscoring that the company spent a good chunk of its revenue on buying political influence.
The bankruptcy filing doesn't list amounts owed by all creditors, but creditors include: Karl Rove's non-profit Crossroads GPS, which supports GOP candidates; DC public relations firms TheGroup DC LLC, founded by former Obama advisor Art Collins, and APCO Worldwide; the American Enterprise Institute, whose scholars have attacked Obama administration regulation of the industry; the U.S. Chamber of Commerce, which has lobbied against those same regulations; the American Legislative Exchange Council, which Corinthian joined and which has drafted bills favoring the industry; former Corinthian board member Leon Panetta, previously President Obama's secretary of defense, as well as Panetta's non-profit research institute; and current board members Marc Morial, president of the Urban League, and Sharon Robinson, president of the American Association of Colleges for Teacher Education.
The bankruptcy filing does list the amounts owed to the 30 largest unsecured creditors, and those include one of law firms charged with defending Corinthian in court, the fabulously-named California firm Payne & Fears ($344,529); the national law firm Cooley ($367,184); various other legal technology, recruiting, and travel business; and Paul Dimeo, Corinthian's Vice President, Real Estate & Facilities Operations, whom the company owes $184,903 in long-term compensation. (Corinthian CEO Jack Massimino is also a creditor, for an unspecified amount; in a recent year he was paid $3 million, and managed to buy a magnificent vacation house that was recently on the market for $11.5 million.)
The longer list of some 50,000 Corinthian creditors, without amounts listed, raises a number of intriguing questions. Republic Report has not yet reviewed the whole list, but we post it here for your review. Following are some highlights we've found so far, all of which would need further investigation:
1. Neutron Interactive. Last fall, Republic Report exposed Salt Lake City-based Neutron's bait-and-switch scam — posting fake job listings and then trying to sell the desperate job-seekers overpriced for-profit college programs. Former employees involved in implementing this cruel hoax told me that one customer company was Corinthian. The creditor list provides further evidence that Corinthian and Neutron were in business together. [UPDATE 10:40 am: Neutron's partner call center, EduTrek, whose employees first blew the whistle on this scam, is also on the creditor list (as "Edu Trek").]
2. Dickstein Shapiro, the powerhouse Washington DC law firm, one of whose specialties, as described in the New York Times, is currying favor with state attorneys general on behalf of corporate clients, including, as the firm acknowledges in its own promotional brochure, Corinthian Colleges. 37 state attorneys general are now investigating abuses at for-profit colleges.
3. APSCU, the for-profit colleges' Washington DC lobbying group, which has pressed policymakers to abandon common sense rules that would hold accountable predatory actors like Corinthian. Corinthian is no longer an APSCU member, just an APSCU debtor.
4. Something called the "Higher Ed Allied Leaders Coalition," located at the same DC address as Akerman LLP, one of the two DC law firms recently registered as lobbyists for Corinthian.
5. The American Council on Education. The Corinthian creditors list includes three different departments of ACE, the leading lobby group for U.S. colleges and universities, including the "membership department." What was Corinthian's relationship with ACE? [UPDATE May 8: Corinthian was indeed a member of ACE; it joined in 2007.]
6. The Harvard Law Review. Did Corinthian order copies of the legal style manual The Bluebook from the Harvard journal and not pay up?  Did it make donation pledges and then fail to fulfill them?
7. A litigation attorney at the U.S. Consumer Financial Protection Bureau, which has sued Corinthian for misleading students. It's hard to fathom why Corinthian owed money to this government lawyer. Maybe one of its vehicles damaged his car when he came to investigate? [UPDATE 10:40 am: A government official says this likely is just an inartful reference to the fact that the CFPB is suing Corinthian for damages; the U.S. Justice Department, which is also investigating Corinthian, is also listed.]
While many on this creditor list may be disappointed that they likely won't be paid what Corinthian owes them, the greater tragedy concerns the tens of thousands of students who attended Corinthian's Everest, Heald, and WyoTech schools and have been left deep in debt and often without the jobs they sought. Corinthian is now under investigation by more than 20 state attorneys general and at least four federal agencies. It has been accused of coercive and deceptive practices, including misleading students and oversight bodies about job placement performance in order to justify career training programs with sky-high prices. But whether Corinthian students who were deceived will have their debts forgiven remains very much unresolved.
This article also appears on Huffington Post.